Sorry mamas in the US, 17mm is out of stock there! Order now and we will ship your order around 12 Dec. 
Just launched, the new Genie Advanced portable pump for effortless pumping on the go.
+
Letdown & expression mode
Suction level up to 330 mmHg
Belt clip & lanyard
Rechargeable battery with 3 hours pumping time & USB-C charging

Bundled with Liquid Shield Kit
+
Please measure your nipple diameter (no areola) using the measuring tool.
The best shield size will fit snugly around your nipple, with no areola. If your size is not available, please go up to the nearest available size. Liquid Kit is quite flexible and forgiving of a greater size range e.g. if you're usually a 15mm, then the 17mm Liquid should feel great, or if you're usually a 19mm, the 21mm will be fine and so on. 
Need help? Visit the Fitting Room.
+
Vacuum range - 15 - 330 mmHg
Cycle speed (Expression mode) - 23 - 70 cpm (variable)
Cycle speed (Letdown mode) - 70 cpm (constant)
Weight - 250 grams (excl kit)
Battery life - 3 hours
Charging time - 4.5 hours
Motor life - 800 hours
Noise - less than 45 db(A)
+
Genie Advanced motor
Compatible with any closed system shield kit
Liquid Kit
Compatible with standard wide neck bottles
Our Awesome Moms
Customer Reviews
Stephanie

Canada
08/21/2021
More people need to know about this pump!
Not only were pumpables the first ones to recommend correctly fitting flanges (after being told 4 wrong sizes from different lactation consultants and spending so much money), but the genie advanced and liquid shields are the only way I've ever been able to pump 5 ounces (which for me was always in the realm of impossible). My biggest regret is not having known about this pump from the start, I really wish more people knew about pumpables!!! I wasted way too much money on other pumps and flanges (not covered by insurance in Canada :( ), and they were so overpriced, painful, discouraging, and I even have one sitting collecting dust because the power adaptor died days after the warranty for it expired (yes medela pump in style with maxflow, I'm talking about you), The genie advanced is portable, so easy to connect to different flanges and bottles, it's quiet, love the program button, lots of options for speed and suction, and the clip + landyard are something soooo simple that every pump should have yet none others do! Will be starting work next week, and as a school speech-language pathologist who will be running around everywhere all day, I have such peace of mind knowing I have this pump to help me continue to give my little guy breastmilk.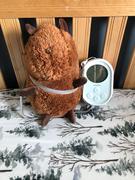 Tarah B.

Canada
01/12/2021
MY GOLDILOCKS!!!!
I have been pumping for the better part of a decade. I've tried 16 different brands of breast pumps. This pump is by far the best portable pump I have ever used. The ability to control cycle speed and suction strength in a portable pump is absolutely a game changer... The ability to record and save a program during a pumping session for the next one is such a time saver. The included belt clip and lanyard are both amazingly thoughtful. THE FLANGES THOUGH!!!I rave about these to anyone who will listen LOL. They are simple to clean and assemble. They are so darn comfortable! I have elastic tissue and I have so much of a better output that I needed to purchase bigger collection bottles!!! I wish I had found you sooner, pumpables!!! You guys have saved my Last Breastfeeding journey I toss your name around like confetti
Jillian T.

United States
11/29/2021
Amazing
I stopped using my spectra synergy gold because these just fit in with my life better. My elastic nips don't like the liquid shields tho...
Hawra A.

Saudi Arabia
11/23/2021
Loved it but
Loved the pump but last week one of sides are not pumping efficiently for some reason so i will have to switch sides, which defated the purpose of buying a 2 flangs pump.